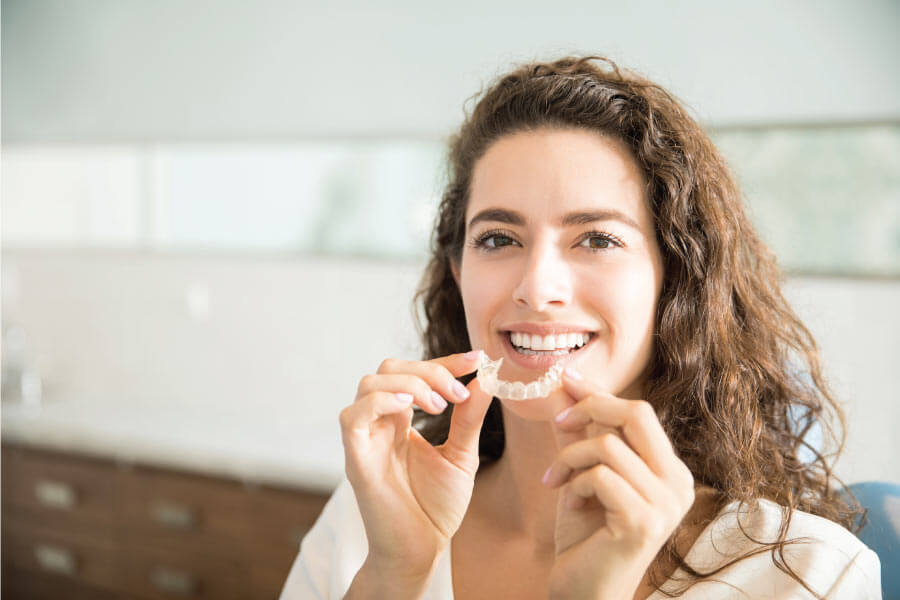 Invisalign is a popular brand of clear aligners, which are clear plastic trays that straighten your teeth! Unlike traditional metal braces, clear aligners are removed for eating and cleaning your teeth. Can anyone get Invisalign? How do you know if you're a good candidate?
What Issues Can Invisalign Resolve?
Most people with mild to moderate alignment issues can get Invisalign. Common issues include:
Crooked teeth
Teeth that stick out
Overbites
Underbites
Crossbites
Tooth gaps
Crowded teeth
During a consultation, we'll determine whether Invisalign or traditional braces are the best treatment.
Who's the Ideal Invisalign Candidate?
If clear aligners can fix your alignment issues, we'll consider other factors, such as your oral health. If you have active gum disease or untreated cavities, we'll need to address those before you get Invisalign. We'll also want to make sure you're willing to follow instructions, such as wearing your Invisalign 20-22 hours a day, cleaning them every day, and removing them to eat and drink anything other than water. While treating misalignment is often easier in teenagers, adults can get Invisalign, too.
How Much Does Invisalign Cost?
Invisalign is usually more expensive than traditional braces. The cost depends on factors like the severity of your case and whether you have insurance that covers a portion. We're in-network with providers like Aetna, MetLife, Guardian, Dental Dental, and more. We also accept third-party financing and offer an in-house dental plan.
Invisalign at Jackson Smiles in Jackson, TN
Have you always wanted a straighter smile? Invisalign resolves common issues like crowding, crooked teeth, and overbites. A straighter smile not only looks good; it's easier to care for! During your consultation, Dr. Patel and the team will examine your alignment issues, answer any questions, and create a customized treatment plan. Please contact us today to schedule an appointment!