Dental Implants are a very popular method of permanently replacing missing teeth. They are extremely durable and are built to last for many years. Our office provides experienced care for dental implants, so call us today to find out what your options for tooth replacement are!
One of the main benefits of the procedure is that a dental implant looks, feels, and functions just like a natural tooth. We make sure to match the color and shape of the dental implant with your other teeth so it blends in seamlessly. With a dental implant in place, you'll be able to chew, speak, and smile with ease again. Better still, dental implants have many additional benefits including how they help retain your face shape, prevent bone loss in your jaw, and keep your surrounding teeth from shifting into spaces and changing your bite.
Tooth Replacement Options in Jackson, TN
Dr. Patel and his team at Jackson Smiles Family Dentistry are trained in every phase of dental implants. We can provide start-to-finish dental implants, which include placing the biocompatible post as well as the natural-looking dental crown on top, so you can take care of the entire procedure right from our office. If you have had a dental implant post placed by another dentist, we are also happy to provide a custom restoration so you can complete the treatment. Please don't hesitate to contact our office if you have any questions about the how the procedure works or how it can help you achieve a beautiful, full smile. You'll be in expert hands at Jackson Smiles Family Dentistry!
Mini Dental Implants
Mini dental implants are another option if you either don't want or can't get regular implants. They are a smaller version of their traditional counterparts where the implant serves as the artificial tooth root. We can typically place them in just one appointment, and the procedure doesn't require any major surgery. You'll be able to go back to your daily routine without any downtime! Another plus is that they are more affordable than traditional dental implants.
One of the most common uses of mini dental implants is to support other tooth replacement options like dentures or bridges. Doing so means you can enjoy a better fit without any slipping or discomfort, and you won't have to deal with adhesives. Our team is happy to help you decide whether traditional dental implants or mini dental implants are right for your needs.
Come in for your free consult to find out how dental implants can revolutionize your smile and oral health!
Contact Us
3D Cone Beam Technology
Jackson Smiles Family Dentistry is proud to be the only general practice in the area with 3D cone beam technology. This revolutionary technology takes detailed 3D images using a scanner that rotates around a patient's head for a more comprehensive view of the teeth, mouth, jaw, and overall facial structure. With these high-resolution images, we are equipped to more precisely diagnose dental conditions and diseases and develop safe, efficient treatment plans.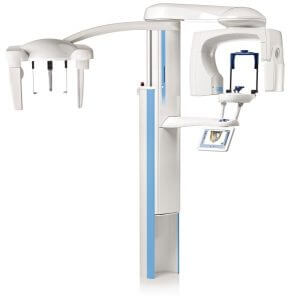 If you are getting dental implants at our practice, we will use cone beam technology to more accurately create and place the dental implants at no extra charge. We are always looking for ways to better the patient experience at Jackson Smiles Family Dentistry, and we're excited to use the state-of-the-art 3D cone beam technology to dramatically improve your visit.
Dental Implants FAQ
Do dental implants hurt?
Since dental implants involve oral surgery, you may be wondering if getting them hurts. During the procedure, you shouldn't experience any pain. We always ensure that the proper anesthetic is applied so that our implant patients can sit through their treatment comfortably. During your recovery stage, you may experience some discomfort as the numbness wears off, which should lessen as time goes on. We will discuss pain medication options to help you during this normal part of the healing process.
How do I care for dental implants?
One of the great things about dental implants is that you can care for them like your other teeth. You should use a soft-bristled toothbrush to brush them twice a day, and remember to floss at least once a day, too. For extra care, you can also add an antimicrobial mouth rinse to your routine.
Am I a good candidate for dental implants?
For the dental implant procedure, it's important that you have a healthy jaw, which means enough bone in your jaw to support the implant. If you're interested in getting dental implants, we'll first take images to ensure you're a good candidate. If it's determined you have an insufficient amount of bone in your jaw, we can discuss your other tooth replacement options.
How much do dental implants cost?
There's a wide range in the cost of dental implants depending on how many teeth you're replacing and whether your insurance covers the procedure. After a tooth implant consultation, we can give you an accurate, personalized cost estimate. At Jackson Smiles Family Dentistry, we have a number of financial options available to help you get affordable dental implants.
Virtual Smile Consultation