At Jackson Smiles Family Dentistry, we are committed to supplying you with the utmost comfort and dental care. When we welcome you into our family you'll notice right away that we stand apart from the rest because of our attention to your every need. Our customer service is of the highest degree and we will walk you through every step in detail, being careful to leave no stone unturned. You'll walk away with the peace of mind knowing you are receiving the best treatment for you and you alone.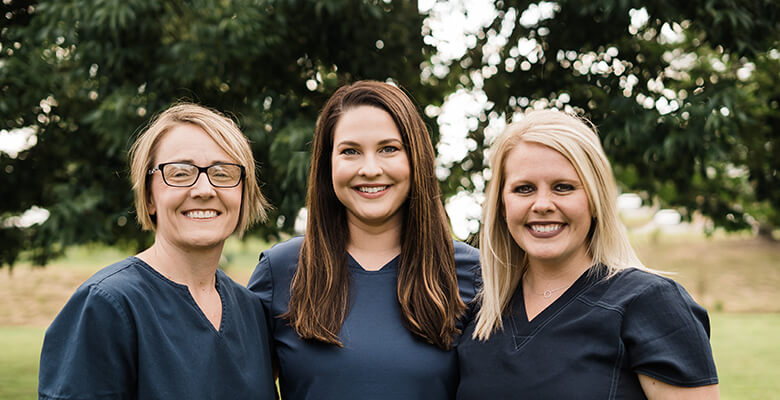 Comfortable & Relaxing Atmosphere
We strive to maintain an atmosphere that promotes positivity and well-being. Our treatment rooms and equipment are cleaned with exquisite care between every patient. We supply amenities for the kids so you can focus on the task at hand, and we have blankets for the comfort of our older patients. Your time spent with us will be a time of rejuvenation for both your teeth and your state of mind, so don't wait to make an appointment!
We offer comprehensive dental work for the whole family.
Our Services
Advanced Dental Techniques
The dedication to our patients does not stop at your comfort level either; we also strive to stay ahead of the curve when it comes to dental advancements. We believe it is worth the investment to maintain state-of-the-art dental technologies and equipment, which translates to faster appointments and more affordable care! It also means you are receiving the most accurate and gentle care available to the market. We treat our patients like family, and we don't give our family anything but the best!
Medit i500 Intraoral Scanner
Intraoral cameras are slim, handheld devices that are used to stream a high-definition video feed of the inside of a patient's mouth to a computer screen so that both the doctor and patient can get a close-up view of the patient's teeth and gums. They can also be used to take digital impressions of teeth, which are necessary for creating dental crowns, orthodontic treatment plans, and a variety of other services. Intraoral cameras are efficient, highly-effective, and negate the need for messy dental impressions using goopy dental putty.
Frequently Asked Questions
How long will my first visit be?
Your first appointment will typically take about an hour to 90 minutes. We understand that not any two mouths are the same, so we schedule extra time to thoroughly examine your teeth, gums, and jaw. We will check your bite for proper alignment and take X-rays to check on your structural health. Getting to know our patients is extremely important to us, and we'll talk about you and your family's medical history, your dental goals, and how we can achieve them.
Do you offer payment plans?
We proudly offer our exclusive Jackson Smiles Dental Plan to assist you financially. This plan offers premium discounts to our services for a low annual fee. This plan has no waiting periods, no deductibles, and no yearly maximums, contact us for more details!
We also accept CareCredit, which is a patient focused financing option that breaks up the cost of your treatment into low monthly, interest free payments. Apply for CareCredit here.
Do you see children?
Dr. Patel loves to see younger patients in his office because he knows that a lifetime of quality oral healthcare starts early! Our staff is gentle, friendly, and trained to give your child the compassionate dental care they need. We also offer family-block appointments that let you bring in multiple children at the same time to receive treatment all at once, or back to back, resulting in fewer trips for the parents!
What if I have a dental emergency?
We allot extra time in our schedule to accommodate dental emergencies the same day. Call us immediately and we'll do everything we can to see you as soon as possible. If your trauma is very severe or bleeding profusely, call 911 right away.
How do I know if I have gum disease?
Gum disease is a lot more common than you might think. If your gums feel tender, or look red and swollen, don't put off seeing us because you may have gum disease. If left untreated, gum disease can lead to serious dental problems, even loss of teeth. Other warning signs are bleeding after you brush or floss, persistent bad breath, pain or sensitivity in your teeth, and receding gums. During your routine dental checkups we will monitor the health of your gums, and treat them if needed.
Is it better to get fillings or dental implants?
Even with the advancement of dental implants for looking and feeling great, nothing beats your natural teeth. Dr. Patel will always suggest conservative treatments whenever possible. If your tooth can be repaired with a filling, we will expertly restore it back to the natural shape and look you are accustomed to. Sometimes though, a tooth may be too damaged for a dental filling and require a replacement, in which case a dental implant may be the best solution. Ultimately, every dental situation is different, and a consultation with Dr. Patel will steer you on the correct path for treatment.
Virtual Smile Consultation