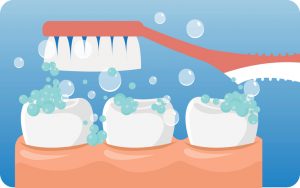 Gums 101…
Gums are what keep teeth in their place. They are so vital that even if your teeth did somehow manage to survive long enough, if your gums are corrupted, your teeth will surely follow the same path. The gums provide valuable nutrients to the teeth and ensure that they're anchored properly with your gum line.
Caring for Gums…
Gums need to be well maintained and cared for. Some people will neglect giving a thorough wishing to their gums out of fear of causing bleeding. The ironic thing is, much like flossing, once you start brushing your gums properly they will certainly bleed a bit; but afterwards, they;ll strengthen and become comfortable with the newfound technique.
Gingivitis…
Gingivitis is the root of all evil when it comes to gum health. It is the kryptonite to healthy gums. This periodontal gum disease needs to be addressed as son as you exhibit any symptoms. The most immediate, initial symptom is excessive and tumultuous gum bleeding that occurs with mild brushing and flossing. This is a dead giveaway that one should consult their dental professional immediately and determine the best course of action.
Solutions for Gingivitis…
After consulting your dental professional, they will most likely take steps to eliminate tartar build-up; as this is a main catalyst for developing gingivitis. It's important to maintain a very regimented dental routine always, but especially after undergoing a corrective cleaning for the case of gingivitis. This means using some form of an anti-cavity, anti-plaque, and anti-tartar toothpaste, then proceeding to floss and rinse throughly with your preferred mouthwash.
Diet…
As we all know, you are what you eat. This proves very true with gum health. As mentioned earlier, gum health is determined by the nutrients being sent to the teeth and gums. This can either make or break your dental health; depending on what you consume on a daily basis. A balanced diet consisting of very little or no sugar at all is optimal for dental health. Avoiding processed/sugary foods, exercising regularly, drinking plenty of water, and reducing stress as much as possible can all contribute to fantastic gum health.