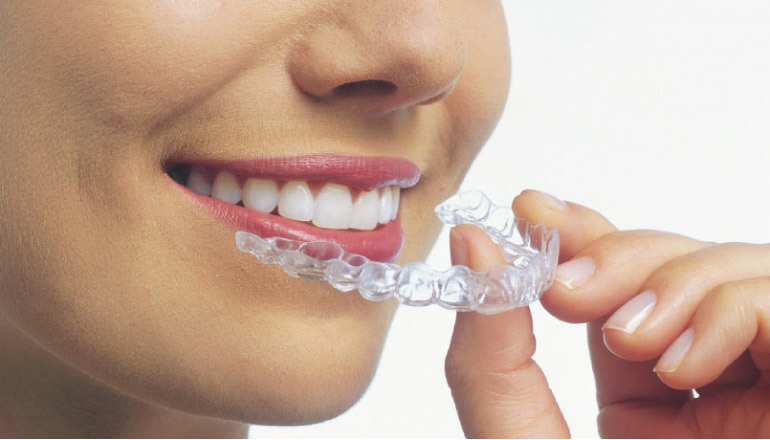 Clear aligners have become increasingly well known as a great option to traditional braces. But how much do you actually know about how clear aligners work? If you're thinking about getting a set of trays, read this first!
How Do Clear Aligners Work?
Clear aligners offer a stress-free way to improve your smile, without the uncomfortable—and unsightly—brackets and wires of traditional braces. The process actually starts with smile design. We'll work with you to determine where we want your teeth to be, and how we're going to get them there! Then, treatment begins. You'll be wearing a series of trays throughout your treatment, and they'll work to gradually push your teeth into their new place. The trays must be worn for 22 hours out of the day, but you can take them off to eat and care for your teeth. Throughout treatment, you'll visit the office every 4-6 weeks so that the dentist can check on your progress and give you your next set of trays. In roughly a year, you'll have a brand new smile!
Benefits of Clear Aligners
So, why get clear aligner therapy? It will completely revitalize your smile, boosting your confidence and making you feel great about your appearance. And with clear aligners, you won't have to worry about the look of your smile during treatment, because the trays are essentially invisible. Trays are also great because they're smooth and comfortable, they are removable and won't impact your dental care routine, and they work faster than traditional braces.
Invisalign® in Jackson, Tennessee
Ready for a straighter smile? Here at Jackson Smiles Family Dentistry, we offer Invisalign Therapy. You're just a consultation away from your journey to a perfect smile. What are you waiting for? Call our office to book your visit today. Or request to book online at our website.
Are you interested in improving your smile? Contact our friendly staff to schedule an appointment today!
Contact Us